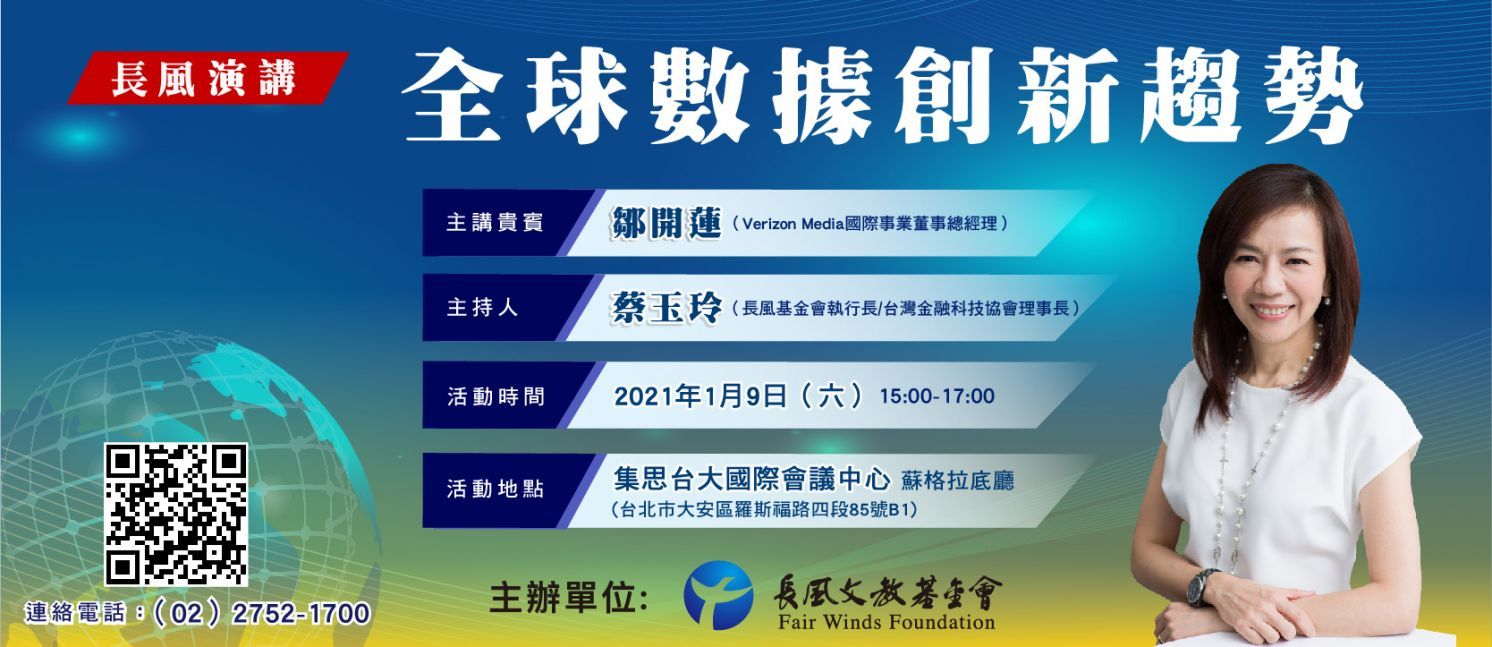 Fair Winds Lecture: Trends in Global Data Innovation
Current technology giants can be said to be data companies. Without data, they are unable to grasp consumer preferences. On the one hand, companies rely heavily on artificial intelligence (AI), Internet of Things (IoT) applications, cloud systems, and real-time analysis. On the other, government policies and regulations for protecting user data have become more stringent. Facing the tremendous impact of the information revolution, it is necessary for us to understand and grasp related changes and innovations, as well as the opportunities and challenges brought about by these trends.
Fair Winds Foundation invited Ms. Rose Kailien Tsou, the managing director of Verizon Media's international business, to give remarks. The event will be chaired by Executive Director and attorney Tsai Yu-ling of the Fair Winds Foundation. During her tenure as minister without portfolio, she dedicated her efforts to promoting renewing laws and regulations on virtual development, e-commerce, innovation and entrepreneurship. Please register to attend this exciting event.  
Featured Speaker:
Topic: Trends in Global Data Innovation
Moderator: Tsai Yu-ling (executive director, Fair Winds Foundation; chairman, Taiwan FinTech Association)
Time: Saturday, January 9, 2021 3 PM—5 PM
Venue: Socrates Hall, GIS NTU Convention Center
(B1, No. 85, Sec. 4, Roosevelt Rd., Da'an Dist., Taipei City 106)
Event Organizer: Fair Winds Foundation
1. This event is free, but seats are limited. The organizer is entitled to shorten or postpone the registration period.

2. When registering, please provide an accurate e-mail address. In order to maintain the quality of our events, the organizer may approve or deny attendees.

3. The organizer reserves the right to modify the event agenda or speaker(s). Any adjustments will be posted on the event page.