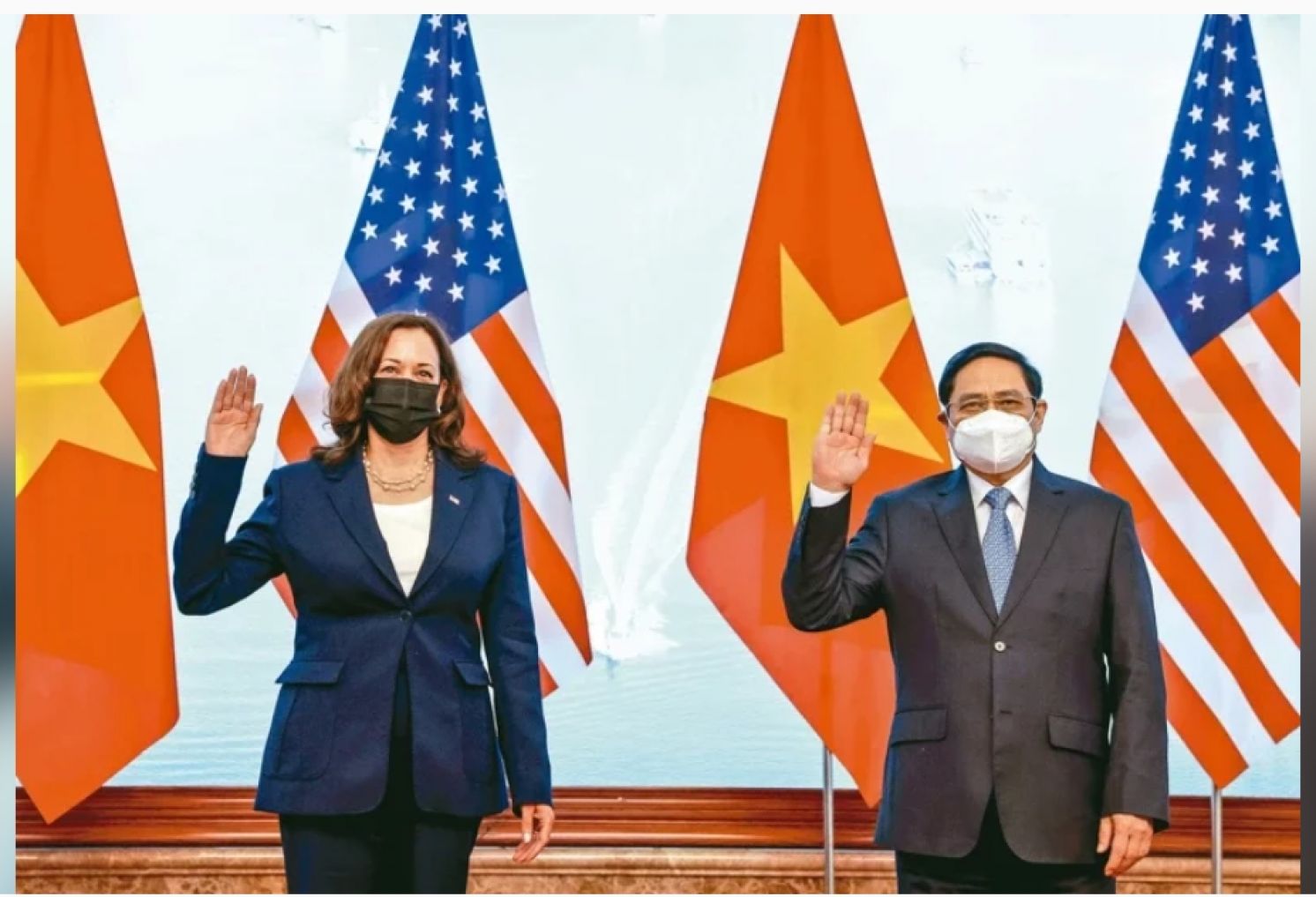 U.S. Attempt to Win Over Southeast Asian Nations May Prove Futile
By Hsu Si-wen
United Daily News, August 28, 2021
Vice President Kamala Harris of the United States concluded her visit to Singapore and Vietnam on August 26. Taiwan and Japan's ruling parties, the Democratic Progressive Party and the Liberal Democratic Party held a "two plus two" video conference on August 27. The two seemingly unrelated activities actually have one thing in common.
Vice President Harris declared that the purpose of this trip was to state the U.S. vision for the Indo-Pacific region. In reality, the real goal of the United States is to unite its Asian allies to go against the power of the Chinese Communist Party. The Taiwan-Japan video conference, on the surface, is strengthening the relationship between Taiwan and Japan, but it is actually an attempt to jointly counter China.
In her speech in Singapore on August 24, Vice President Harris emphasized that the United States is not having a relationship with Southeast Asia and the Indo-Pacific region to "confront" any country, nor does it require anyone to choose sides. This is standard diplomatic rhetoric, and diplomatic rhetoric should often be interpreted from an opposite perspective in order to see the true meaning. Harris emphasized that it was not to fight against any country, but it was actually alluding to the Chinese Communist Party; on the surface, she says she does not want anyone take sides, but in reality, she is reminding and requesting countries in the region to be pro-American and anti-China.
Vice President Harris expressed that the United States is willing to stand with allies and partners to face threats together. But the expectations of the United States may be difficult to implement, because Southeast Asian countries are close in location to China. It is difficult to avoid the mainland in terms of people-to-people exchanges, resource sharing, and economic and trade exchanges. It is precisely because of this geographical relationship that the CCP has a great influence in Southeast Asia. On the same day that Harris arrived in Vietnam, Prime Minister Pham Minh Chinh met with the China's Ambassador to Vietnam Xiong Bo, and emphasized that Vietnam will not ally with any country to fight against other powers.
At a time when the United States has withdrawn its troops from Afghanistan, causing international doubts about U.S. commitment and reputation, Harris' trip was clearly intended to consolidate the confidence of Southeast Asian countries in the United States. However, the personal visit to Vietnam only once again evokes the world's memories of the embarrassing scene when the United States abandoned South Vietnam and hurriedly withdrew from Saigon.
In order to win over Vietnam, the United States has donated one million doses of vaccines to Vietnam, which will be delivered 24 hours later. Harris also announced that through the U.S. Agency for International Development, throughout a five-year period, $36 million U.S. dollars will be provided to assist Vietnam in accelerating its transition to clean energy. However, after President Nguyen Xuan Phuc of Vietnam met with Harris on August 25, the state media Vietnam News Agency emphasized in a press release that Nguyen Xuan Phuc reiterated that Vietnam adheres to an independent foreign policy. It is basically telling the United States that it will not become an enemy of China for the sake of being close to the United States
The Afghanistan situation has severely damaged the reputation of the United States, and Southeast Asian countries are unwilling to be enemies to China. In particular, Prime Minister Lee Hsien Loong of Singapore has always advocated for pro-American and not anti-China and has insisted to not choose sides between the United States and China. Harris travelled a long way, but it may be difficult to achieve the full resistance of China from Southeast Asian countries.
In fact, although the United States has established "anti-China alliances" in the Indo-Pacific and European regions, most countries are pro-American and not anti-China. Only Japan has followed the U.S. anti-China policy because of the Diaoyutai Islands controversy and the situation of American troops stationed in Japan.
Southeast Asian countries are pro-American but not anti-China; Japan is pro-American and anti-China; and Taiwan is pro-American but hostile towards mainland China. It is worth considering the pros and cons of these strategies.
From: https://udn.com/news/story/7339/5704978