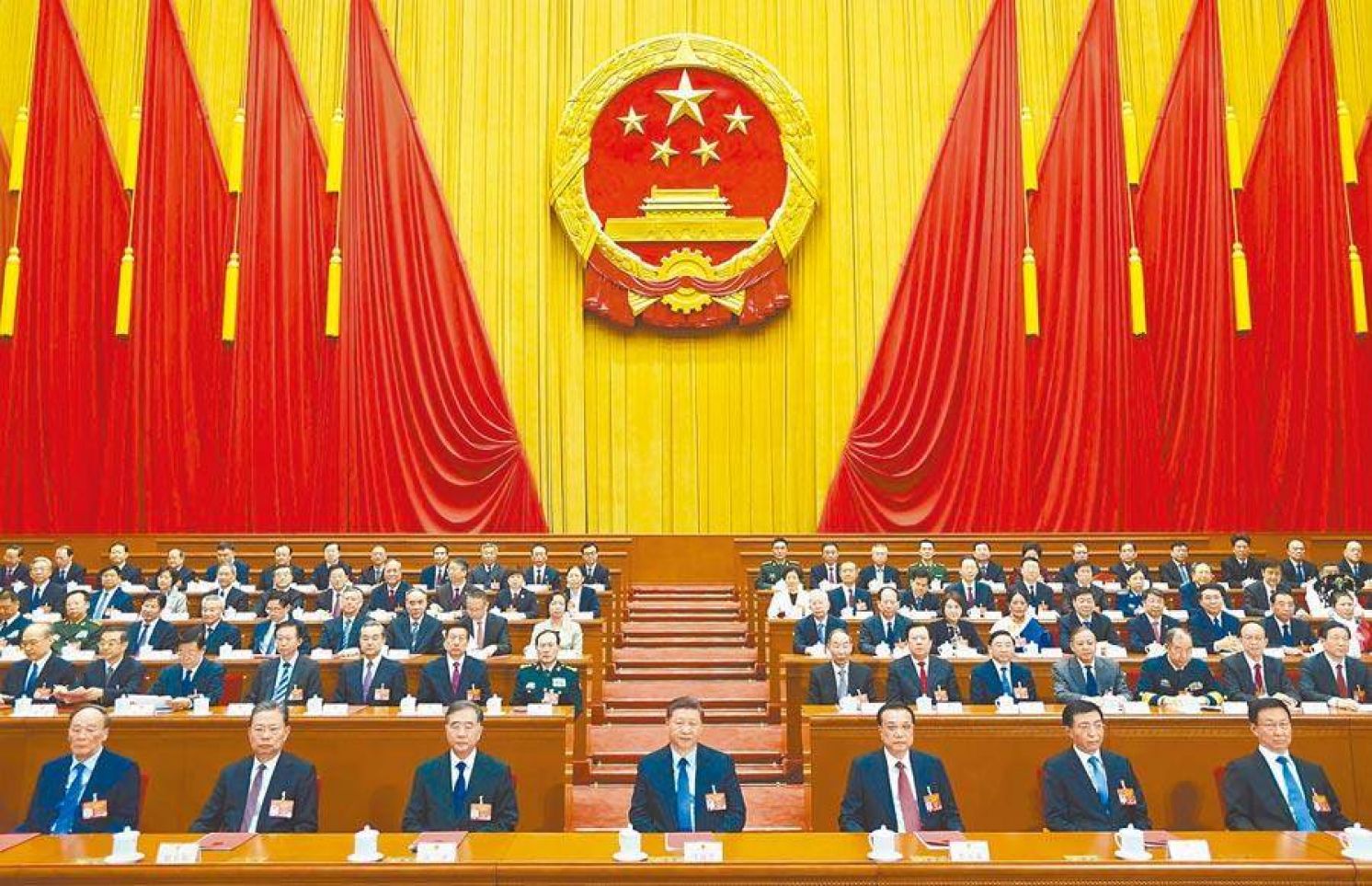 Hong Kong National Security Bill Shows that China Will No Longer Seek New Cross-Strait Consensus
Economic Daily News, May 22, 2020
The Two Sessions currently being held in Beijing, namely the National People's Congress (NPC) and the Chinese People's Political Consultative Conference (CPPCC), recently dropped a bombshell related to national security issues on Hong Kong. On the evening of May 21, the NPC announced that agenda this year will include reviewing national security legislation related to Hong Kong. Vice Chairman Wang Chen of the NPC further explained at the opening ceremony that the legislation will authorize Chinese national security operations to set up agencies in Hong Kong.
The news brought immediate shock and attention internationally and is reflected in Hong Kong's stock market plunge. The full name of this law is called the "draft decision to establish and improve a legal framework and enforcement mechanism for safeguarding national security in the Hong Kong Special Administrative Region." This legislation would make criminal of any act that is against the central government, threatens the national sovereignty, involves terrorist violence or  of foreign interference.
Chang Wu-ueh, a professor specializing in cross-strait relations studies at Tamkang University, said: "This is a watershed moment for China's Hong Kong policy. As long as it comes down to national sovereignty or national security, there is only 'one china'." In turn, it also projects that Beijing will adopt more "unilateral legislation decisions" when it comes to dealing with Hong Kong and Taiwan.
To the outside world, this new Hong Kong security law seems unexpected. However, Chang points out that in the communique of the Forth Plenary Session last October, China had already provided guidelines for establishing and improving control measures in Hong Kong.
This Hong Kong security law is now on the "Two Sessions" agenda for the NPC to authorize, discuss and set in stone in June. Later, it will be announced and implemented by the Hong Kong SAR government. In light of everything, Chang believes that "China has completed a new strategic deployment for Hong Kong". This legislation clearly depicts President Xi Jinping's bottom-line thinking.
In reality, ever since the protests in Hong Kong against the anti-extradition law last year, Beijing has already been increasing its level of interference into Hong Kong affairs. This can be seen from its policy-making mechanism towards Hong Kong, all the way up to appointing Hong Kong's high-ranking officials. A major reason for this increase in interference is because Hong Kong Chief Executive Carrie Lam could not competently enact national security legislation for Article 23 of the Basic Law. Therefore, in order to fully supervise and control Hong Kong's affairs, Beijing resorted to subrogation and placed Article 23 under Article 18 as its Annex III.  
By placing the Hong Kong national security legislation in Annex III, Chang points out that on the level of national sovereignty and national security, Beijing's stance is clear: "only one country but not two systems". Therefore, when the Beijing authorities arrest suspects in Hong Kong in the future, there will no longer be any cross-border legal disputes.
At the same time, the enacting of this law may trigger protests from other countries such as the United States, and lead to Hong Kong's continual resistance. It might also result in a probable failure for the pro-China camp at the Hong Kong Legislative Council election this September. Nevertheless, Chang is still certain that "for such an important strategic deployment, Beijing would not mind a fight". Under the big framework, Beijing is evidently conveying to the world that its national security and sovereignty allows no room for provocation. 
For several days, important public statements in relation to Taiwan's situation with China have been shortened in length. Some of these include President Tsai Ing-wen's second inaugural address in Taiwan, the opening remarks by Chairman Wang Yang of the National Committee of the CPPCC, as well as Chinese Premier Li Keqiang's report on the government. Some scholars identified that in the past, emphasis on a "peaceful unification" in the Cross-strait relationship used to be a key principle. However, this time around, the word "peace" hasn't been mentioned in their statements; instead, it is being replaced with "anti-independence and integration promotion."
According to Chang's analysis, if we evaluate cross-strait relations in light of  Beijing's Hong Kong national security legislation, it appears that mainland China no longer expects support from the Taiwanese government or its people. China will likely take additional actions on its own terms through legislation. As a result, Chang believes that it is crucial for Taiwan to study this new Hong Kong security legislation and what it entails.
With Taiwan caught in the rivalry between the United States and China, Chang predicted that the cross-strait tensions would only intensify before the U.S. presidential election on November 3. Especially when nationalism in mainland China clashes with the values of democracy and freedom in Taiwan, decisions by either government will be highly constrained by public opinion. If there continues to be a lack of communication, then any unilateral goodwill will surely face pressure from within.
Even though some scholars think that a new consensus could be developed between the mainland and Taiwan under President Tsai's second term, Chang believes that it will be difficult to see improvement of cross-strait relations in the near future. He suggests that Taiwan focus on crisis management to avoid any miscalculation or accident.
As to whether mainland China will end the 2010 Economic Cooperation Framework Agreement (ECFA) with Taiwan and no longer offer preferential tariff treatment, Chang said that only if China completely changes its strategic thinking would the deal still be on the table.
From: https://money.udn.com/money/story/5603/4584167