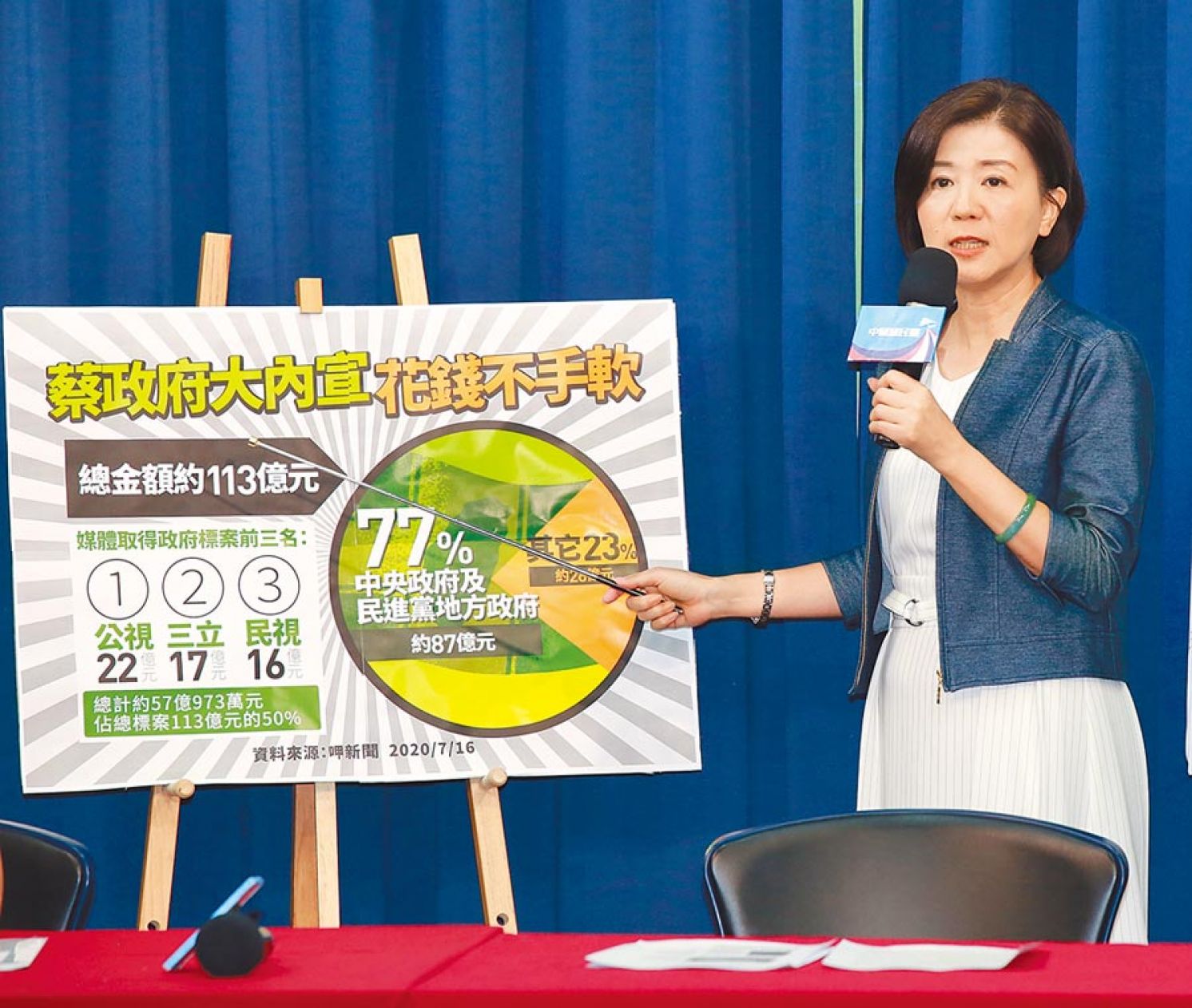 Dominating Government Bids, DPP Supporters Are Biggest Beneficiaries
United Daily News, August 5, 2020
Facing the surging wave of the bribery scandal by legislators, President Tsai Ing-wen came to the forefront and said that the law serves as the bottom line on ethics. "But even though one does not violate the law, it does not mean that social perception will not be negatively impacted and hurt the people's trust in the government." These words, in testifying the recent Tsai administration's bid controversies is all the more ironical. Coincidentally groups of kinship won numerous bids, review committees continuously repeated, even the company involved in the Internet army bidding, all silently turned to Taiwan Railways Administration and within half a year won over fifteen million dollars of bids therein. All these are seemingly lawful but are they reasonable?
Review Committee Composed by Former Party Employees or DPP-Friendly Figures
Last year, the suspicious involvement of two marketing companies, Haruru and bobii Creative, in the "Internet army" scandal remains unresolved. We don't understand why Haruru can always win the bids with profits higher than market while their closing bidding report is fragmented. When the Review Committee was revealed, what came to our eyesight were only those friendly to the ruling Democratic Progressive Party (DPP), then we came to realize that it is the idiomatic mode of Tsai administration in the past two years.
According to Government Procurement Act, one-third of the Review Committee members should be scholars/specialist while two-thirds, civil servants. But when it comes to review committee, two die-hard DPP supporters Lin Yu-hui and Shao Li-chung, both appeared in capacity of exterior reviewer and are not evasive to sit in the committee. Furthermore, they both repeatedly appeared in all kinds of government procurement bids.
Despite the Executive Yuan emphasized repeatedly that all procurement bids were executed by abiding by the law, review committee members were selected from the scholar and specialist data bank of public construction commission according to their specialty and position. However, there are over 4,0000 specialists and scholars in the said data bank. From the Executive Yuan's policy communication marketing bids to Haruru case, all members of the review committee were "kinship proliferation", they were either former DPP employees or supporters. No wonder, when some bid participating companies came to the bidding site and saw both Lin and Shao sitting in the committee, they immediately realize that they just came to accompany the list.
Ironic! TRA's Online Marketing Bid Amount Exceeds Back Pay to Employees
If those outsourced bids can help promote the state-owned company's public image then further to promote the morale of its employees, it is acceptable. However, taking Taiwan Railways Administration (TRA) for an example, for years the company was pestered with all defects, after the Puyuma express train accident, the morale of the company was deteriorating. Long accumulated working environment and culture, from the tiny defects such as leaking, behind schedule to major ones like accidents and incidents, and most recently its employees convened a press conference to protest back pay. What is most ironic, the bid amount that the TRA put for its net marketing within this half-year was higher than the back pay to its employees.
After the rollover accident of Puyuma express train, up from President Tsai and down to transport minister and Taiwan Railway administrator all pledged for reform. A year has passed, the dilemma of the TRA stands still, we do not see any governing official willing to "cure" its disease. Only we see a "spokesman office" was established to put cart before horse in blocking criticism. The company hired the same company escorting Council of Agriculture, Executive Yuan, with higher than market price to come to its "rescue". If we may ask, apart from some cosmetic makeup, what major fundamental or institutional reform the DPP administration has done for the TRA? It is nothing but another perfunctory of "Today bemoan, tomorrow forget." The only reform that the DPP administration achieved is creating a Facebook page for the Taiwan Railway.
Apart from the fact that pro-DPP companies "raking in great fortune" involved in transfer of interests behind the scene, according to Professor Su Heng of the Department of Journalism, National Chengchi University, who pointed out in her column of this newspaper that "What we see the evil deed as the government give all restrictive bids to its confidants, kinship and supporters; what is more serious, the hit nets and social media is pervasive and penetrating, they have brought digital propaganda into political placement marketing in grandiose, thoroughly manipulating through political correctness for seeking profit as core value," pointing out the serious issue of "digital totalitarianism" behind those bids.
We ask President Tsai: Will these affect social perception and disrupt the people's trust in the government?
From: https://udn.com/news/story/6656/4756255