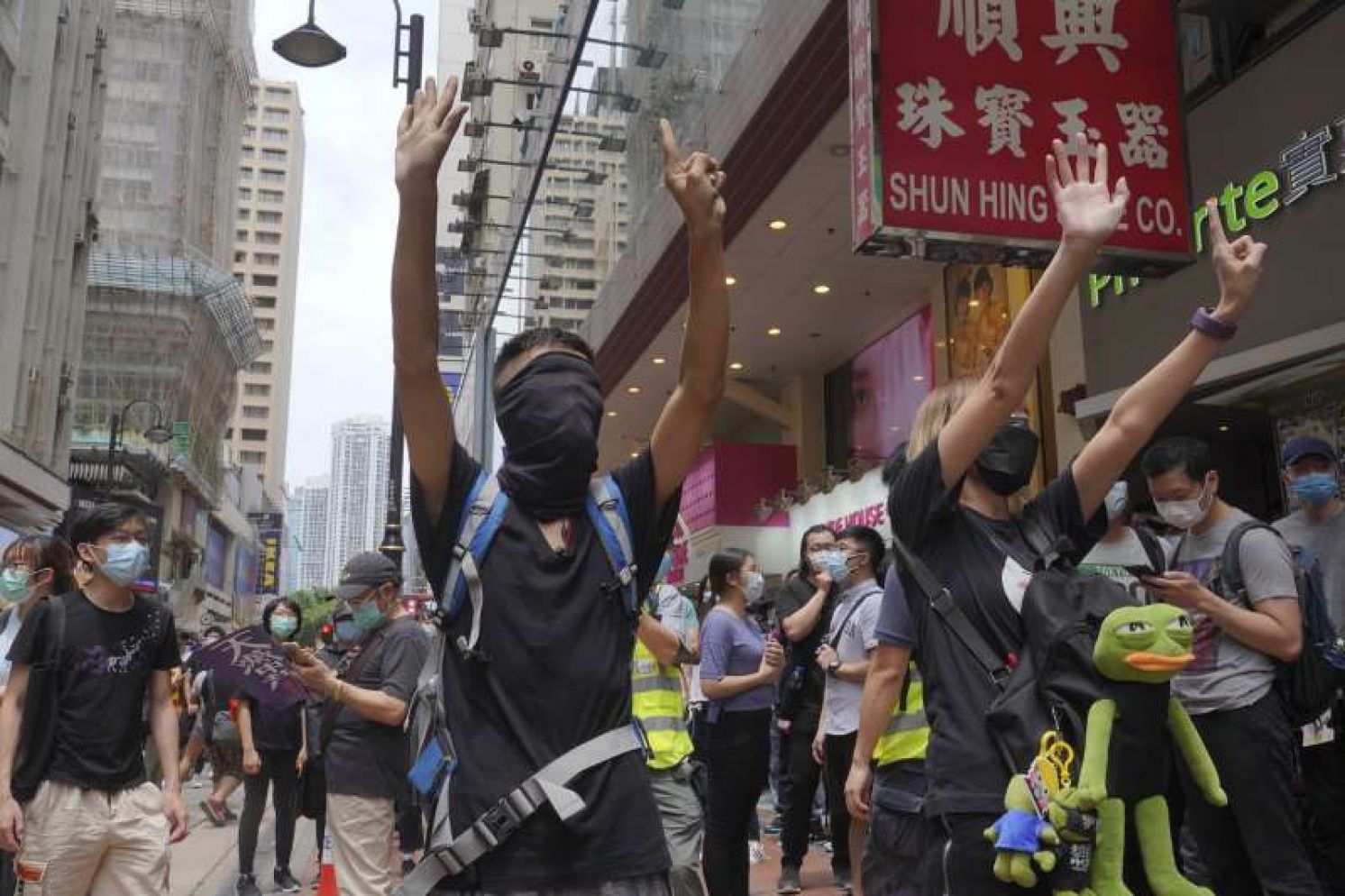 Cross-strait Relations under Beijing's Wolf-Warrior Diplomacy
By Chao Chien-min
United Daily News, May 23, 2020
In her inaugural address delivered on May 20, President Tsai Ing-wen asserted that her cross-strait policy would be based upon "peace" and "dialogue". Two days later in his Report on the Work of the Government delivered to the General Assembly of the National People's Congress, Chinese Premier Li Keqiang mentioned cross-strait relations but neglected two key terms: the so-called "1992 Consensus" and "One Country, Two Systems." Recent discussions have surfaced over the possibility of dialogue between Taiwan's ruling Democratic Progressive Party (DPP) and the Chinese Communist Party. Cross-strait relations is facing unprecedented changes, affected by mainland China's domestic and international challenges.
In his governance report delivered to the 19th National Congress of the Communist Party, Chinese President Xi Jinping proposed three core tasks: avoid financial risks, precisely implement the "aid-the-poor" policy, and prevent environmental pollution. Due to coronavirus (COVID-19) pandemic, the main tasks, compared to those of last year, have changed substantially. Premier Li did not mention GDP growth rate but emphasized stability instead.
In order to reduce the impact of trade war with the United States, China implemented six-points policy in July 2018 to promote stability, with hopes to stabilize financial markets and foreign trade and investment. However, the pandemic has hindered economic development. Therefore, the Chinese government adjusted the priority from external to internal needs and launched this April a six-points policy focusing on domestic demand, including maintain public commodities, markets, and supply chains. While Chinese policy has shifted from preventing external impact to maintaining domestic stability, employment has becomes top priority. Economic growth in the first quarter was -6.8 percent, the lowest since gross domestic product (GDP) growth was first published by the Chinese government. Experts even estimate that the unemployment may raise up to 200 million, thus shifting China's top priority from alleviating poverty to ensuring employment. The Communist Party's politburo meeting on April 17 decided to expand deficits, enlarge national and local public debt, and overturn the directives of last year's government work report to minimize local debt risks.
In addition to the serious situation within, the trade war between the United States and China is escalating. Chinese foreign policy has turned offensive, which has been dubbed "wolf-warrior diplomacy." The following are a few examples.
First, Chinese attitude towards the United States will likely turn "eye-for-an-eye" instead of tolerance. Responding to U.S. President Donald Trump's accusation that coronavirus arose out of a laboratory in Wuhan, Foreign Ministry Spokesman Zhao Lijian refuted and accused that the virus was brought to Wuhan by US soldiers. During the World Health Assembly (WHA) this year, Australia echoed the U.S. claim to commence an independent investigation of coronavirus outbreak. The most prominent counter-attack was China's immediately announcing an 80% tariff on imports of Australian barley for five years. The Chinese ambassador to Australia warned that Chinese students and tourists may affect the Australian economy.
Second, harsher stance towards Western nations. In a recent post on Twitter, the Chinese Embassy in France openly criticized Western nations for taking improper measures to prevent the pandemic. The Chinese ambassador to Germany also demanded that Germany express gratitude for Chinese aid during the pandemic.
Third, slow down the pace of the Belt and Road Initiative to alleviate pressures from neighboring countries.
Under domestic and foreign pressures, how might China's policy towards Taiwan be affected? A most surprising highlight of the National People's Congress this year was, detouring Hong Kong Legislature, directly passed national security legislation on Hong Kong. Deputy Chairman Wang Chen explained to the public that the Hong Kong national security legislation has three main points: "Anti-Hong Kong independence and separation," "anti-foreign interference," and "supremacy of one country over two systems". Some Hong Kong people have viewed this change as the death of the "One Country, Two Systems" framework, which has granted Hong Kong relative autonomy. In the future, in order to execute the legislation, setting up related institutions may create even greater confrontation. President Trump has expressed strong reaction, which may make the situation more complicated.
Ignoring the will and possible backfire from the territory's Beijing made an arbitrary decision for Hong Kong. Taiwan and Hong Kong share similarities. Can Beijing let go its iron hand on Taiwan?
For Beijing, peace across the Taiwan Strait is based on separate interpretations as to the meaning of "one China." Under this framework, Beijing has no objection to the United States to add Taiwan Relations Act to its "one-China policy" and can tolerate a broader American interpretation of "one China."
For cross-strait relations, the basis was "one China, with respective interpretations". Yet during this time when the whole world is fighting the pandemic, Taiwan has clearly favored the United States, not only criticizing the impotence of the World Health Organization (WHO) but provided incorrect information as sending a letter to WHO implying that the patients been quarantined were "people-to-people infection". Such incorrect information has been used by President Trump as tools to criticize China and the WHO. During the WHA this year, Minister of Health and Welfare Chen Shih-chung ridiculed that WHO Director-General Tedros Adhanom and President Xi Jinping cuddled each other to seek warmth. Such doings backfired. Beijing criticized Taiwan as "seeking independence by manipulating the pandemic", affirmed that the U.S. China policy is hollowing, and warned that the basis for cross-strait peace is weakening.
As domestic and external pressures escalate for the mainland, Taiwan has made itself center of the storm. What is foreseeable is the further deterioration of cross-strait relations. How to reduce the impact and uphold peace are issues of our utmost concern.
(The author is dean of the College of Social Sciences at Chinese Culture University in Taiwan.)    
From:https://udn.com/news/story/7339/4584256