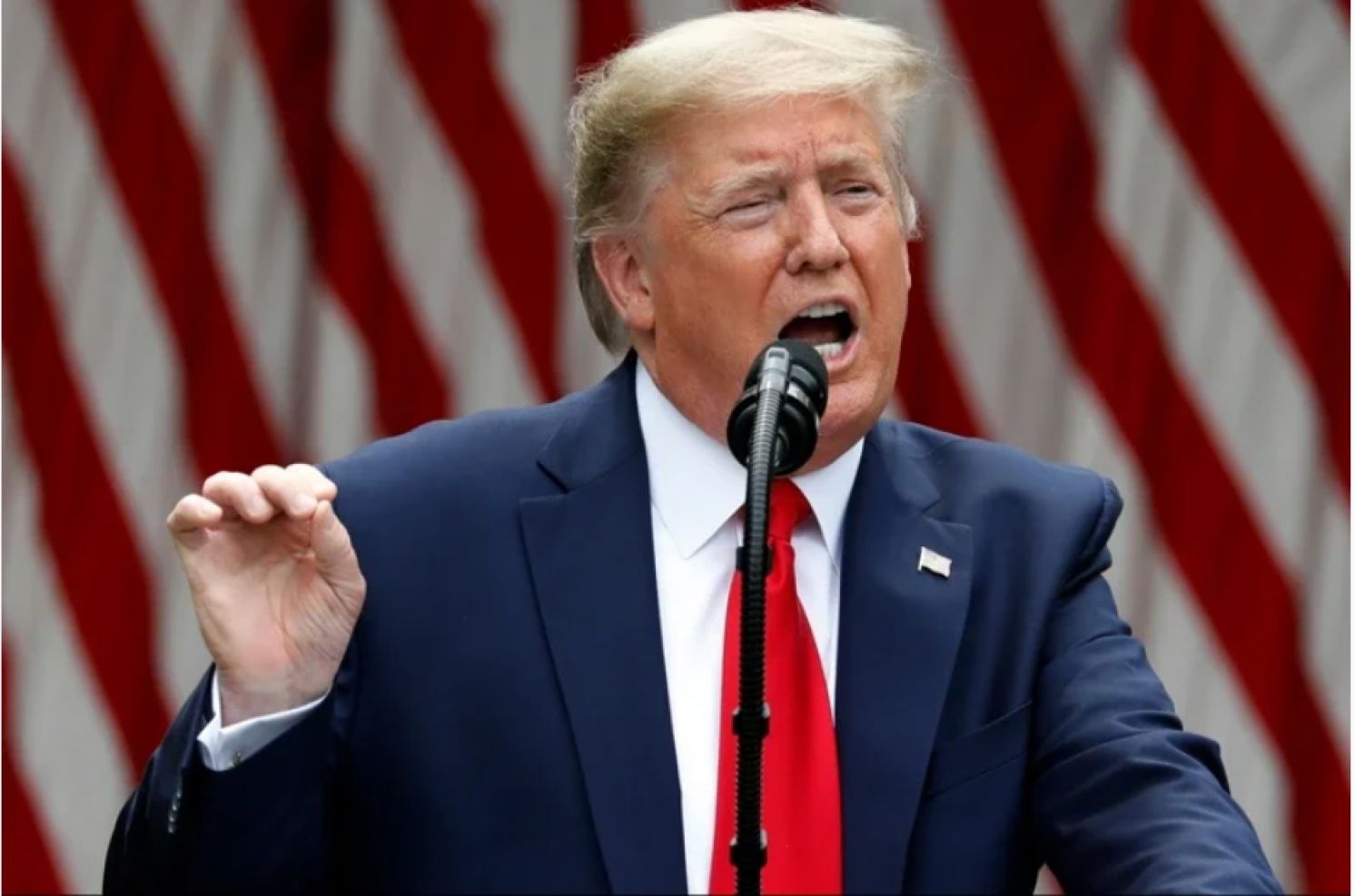 China Approves National Security Law on Hong Kong, Trump Ending Hong Kong's Special Status
Compiled Reporting from United Daily News, May 28 and 31, 2020
 
The tensions between the United States and China heightened again after the China's National People's Congress approved the decision to enact the National Security Law for Hong Kong on May 28. President Donald Trump of the United States immediately announced punitive measures the next day in the White House, revoking preferential treatment of Hong Kong including custom tariffs, extradition agreement, export restrictions on dual-use technologies, and new sanctions against Chinese officials, such as suspending their student visas to the United States.
Although President Trump took major steps to sanction China and end the special status of Hong Kong, his press conference lasted only 10 minutes, and no questions were allowed. Since there was no mentioning of the Phase One U.S.-China trade deal during the press conference, the U.S. stock market stopped slipping as it was seen as less threatening to the American economy than investors had feared.
The 13th Chinese National People's Congress closed in the afternoon of May 28 after it voted on the "Decisions on Establishing Hong Kong Special Administrative Region's Legal Framework and Execution Mechanism to Protect National Security," often abbreviated as "Hong Kong National Security Law." The People's Congress passed the draft by 2,878 voting in favor, one opposed, and six abstaining. The Standing Committee of the National People's Congress is authorized to proceed with the detailed legislative process.
According to the official announcement, the Chinese government will set up a national security agency in Hong Kong. This news immediately caused serious concern of Hong Kong and the international community. The shared concern is that it would violate the "Hong Kong Basic Law" and erode the fundamental freedom and high-level autonomy of Hong Kong.
Beijing seems to disregard the protests of Hong Kong citizens, American sanctions, and the negative economic impact and is determined to push Hong Kong towards battlefield of international games based on the so-called "bottom-line thinking."
President Trump, accompanied by National Security Advisor Robert O'Brien, Secretary of State Mike Pompeo and Secretary of the Treasury Steven Mnuchin, announced on May 29 that China unilaterally imposes control over Hong Kong in the name of national security is a plain violation of Beijing's treaty obligations with the United Kingdom in the Declaration of 1984 and explicit provisions of Hong Kong's Basic Law. China has replaced its promised formula of "One Country, Two Systems" with "One Country, One System;" China's latest incursion, along with other recent developments that degraded the territory's freedoms, makes clear that Hong Kong is no longer sufficiently autonomous to warrant the special treatment afforded by the United States.
President Trump went on to announce that he has directed his administration to begin the process of eliminating policy exemptions that give Hong Kong different and special treatment. The announcement will affect the full range of agreements that the United States has with Hong Kong, from the extradition treaty to the export controls on dual-use technologies and more, with few exceptions. However, President Trump didn't elaborate what would be the "few exceptions."
President Trump also announced that the U.S. Department of State will revise travel advisory for Hong Kong to reflect the increased danger of surveillance and punishment by the Chinese state security apparatus. The United States will take action to revoke Hong Kong's preferential treatment as a separate customs and travel territory from the rest of China. The U.S. will also take necessary steps to sanction Chinese and Hong Kong officials directly or indirectly involved in eroding Hong Kong's autonomy. But no names were mentioned.
 
President Trump claimed that the U.S. actions will be strong and meaningful. However, CNBC pointed out that Trump failed to specify the scope of sanctions against Chinese officials, nor did he mention whether the United States will sanction against the financial institutions and corporations involved in eroding Hong Kong's autonomy. It is unclear if the sanction will affect the Phase One U.S.-China trade deal.
Reuters reported a quote from certain investment advisor saying that Trump's announcement was a political gimmick because he failed to mention new economic sanction measures or new economic action to revoke U.S.-China trade deal. It is no surprise that the stock market made a rebound.
House Speaker Nancy Pelosi issued a statement after President Trump's announcement saying "the vague measures suggested by President Trump are nothing new and do not articulate a real or serious strategy to confront Chinese actions. For three years, President Trump has dangerously emboldened Chinese President Xi Jinping to accelerate his human rights crackdown including against the people of Hong Kong."
President Trump also mentioned coronavirus in the press conference. Trump accused Chinese government of malfeasance leaving the world suffering from the pandemic. Trump said the United States will terminate its relationship with the World Health Organization and redirect U.S. funds to other worldwide and deserving, urgent, global public health needs.
The Chinese embassy in the United States issued a statement on its website late night May 29 reiterating that Hong Kong is a special administrative region of the PRC. Therefore, Hong Kong matters are internal affairs of China, and no foreign meddling is allowed. China will take necessary action to counter any wrongful interference in Hong Kong affairs by external forces.
Chinese Foreign Minister Wang Yi said on May 24 that the adoption of the decision will start a legislative procedure, which will improve Hong Kong's legal system and bring more stability, stronger rule of law and a better business environment to Hong Kong. The basic principle of "One Country, Two Systems" and Hong Kong's position as a global financial, trading and shipping center will be protected, he said. Wang believed that those who wish to see the long-term stability of Hong Kong and the success of "One Country, Two Systems" will understand and support the Chinese decision.
From: https://udn.com/news/story/121127/4596955 and https://udn.com/news/story/121127/4602674