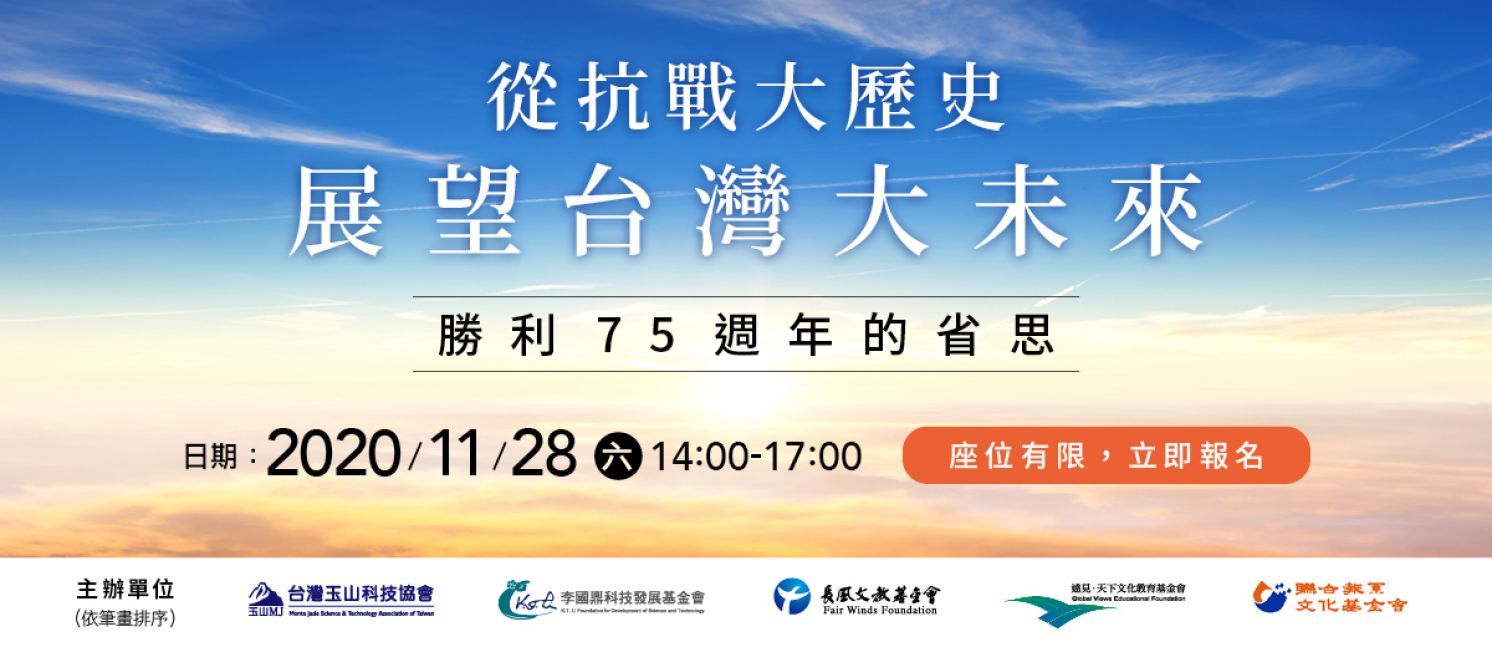 Outlook on Taiwan's Future by Reflecting on the 75th Anniversary of the Second Sino-Japanese War
The Second Sino-Japanese War, better known in Chinese as the War of Resistance Against Japan, is arguably the most important historical event in Asia in the 20th century. How did the backward China achieve the final victory? Why did Chiang Kai-shek insist on taking back northeastern China and Taiwan? Why did he support the independence of India, South Korea, and Vietnam? Why did he support maintaining the imperial system in Japan? This war had a huge impact on China, Taiwan, the Asia-Pacific region, and even the post-war world. They still affect our current and future development.
Time: Saturday, November 28, 2020 2 PM—3 PM
Venue: The Forum, GIS NTU Convention Center  
(B1, No. 85, Sec. 4, Roosevelt Rd., Da'an Dist., Taipei City 106)
Co-Organizers: Monte Jade Taiwan, K. T. Li Foundation for Development of Science and Technology, Fair Winds Foundation, Global Views Commonwealth Culture Foundation, United Daily News Culture Foundation
Speaker Biography
Kuo Tai-chun is a researcher at the Hoover Institution, Stanford University. She specializes in the history of the Second Sino-Japanese War, modern Chinese history, and Chiang Kai-shek. In addition to Chinse books, her English works include T. V. Soong and His Time and Taiwan's Economic Transformation: Leadership, Property Rights, and Institutional Change.
Huang Tzu-chin is full-time researcher at the Institute of Modern History, Academia Sinica. He specializes in Sino-Japanese relations, the study of political figures in China and Japan, and the history of the Second Sino-Japanese War. He has multiple works published in Chinse.
1. This event is free, but seats are limited. The organizer is entitled to shorten or postpone the registration period.

2. When registering, please provide an accurate e-mail address. In order to maintain the quality of our events, the organizer may approve or deny attendees.

3. The organizer reserves the right to modify the event agenda or speaker(s). Any adjustments will be posted on the event page.