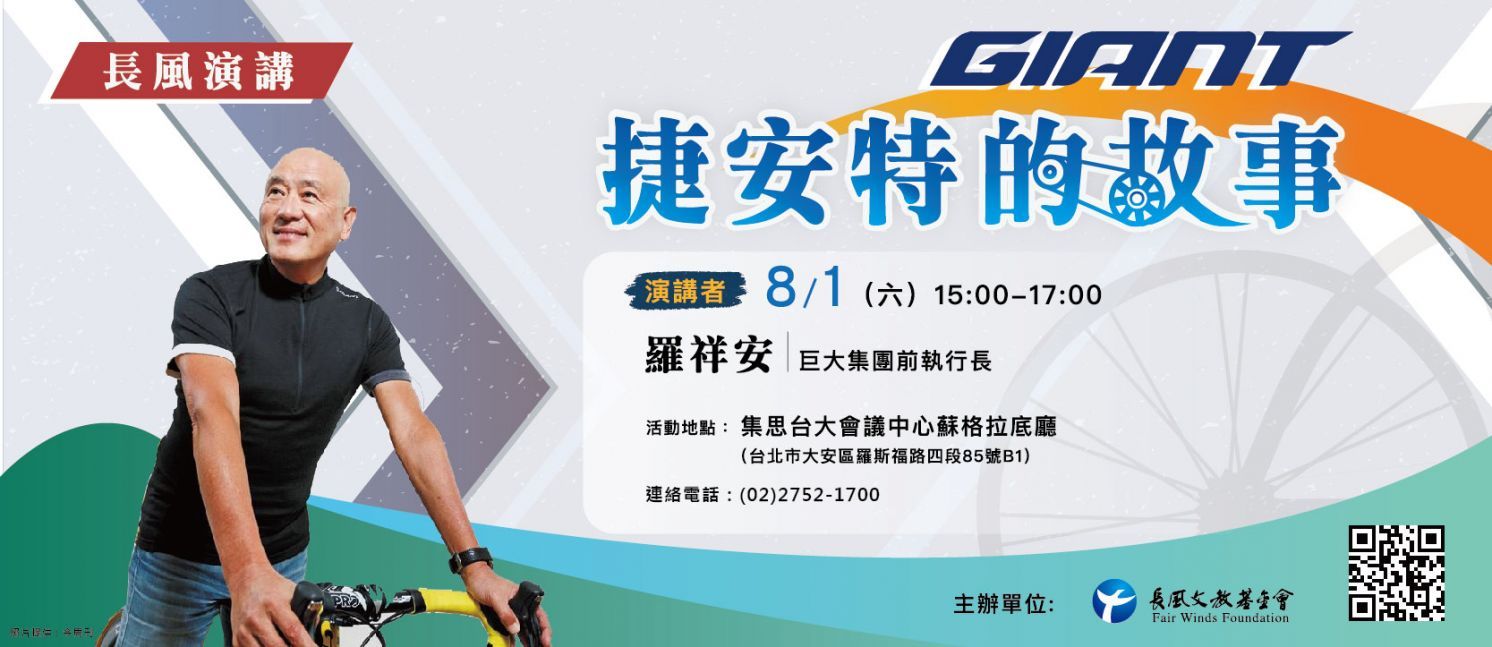 Fair Winds Lecture: The Story of GIANT
 Anthony Lo, founder of the GIANT brand and former chief executive officer (CEO) of GIANT group, the world's largest bicycle manufacturer, overcame various challenges over 40 years and led GIANT's marketing from Taiwan to the world's top three bicycle brands. The strategy of "global brand, local roots" has been recognized by a vast number of consumers. In order to promote a new bicycle culture, GIANT also assists the public sector in creating a safe and friendly riding environment, encouraging people to enjoy healthy and leisure life and promoting the popularization of bicycle riding. The Fair Winds Foundation is pleased to invite Anthony Lo, former CEO of GIANT Group, to share the story of Taiwan's own brand becoming a titan in the global bicycle industry. We welcome you to sign up for this exciting event.
Speaker: Anthony Lo (former CEO of GIANT Group)
Time: Saturday, August 1, 2020 3 PM—5 PM
Venue: Socrates Hall, GIS NTU Convention Center (B1, No. 85, Sec. 4, Roosevelt Rd., Da'an Dist., Taipei City 106)
Speaker Profile
Featured Speaker Anthony Lo
Graduate of National Taiwan University, business major
Chairman of Bicycle New Culture Foundation
Founder of GIANT Brand
Former chief executive officer (CEO) of GIANT Group
Organizer: Fair Winds Foundation
Phone: (02) 2752-1700
1. This event is free, but seats are limited. The organizer is entitled to shorten or postpone the registration period.

2. When registering, please provide an accurate e-mail address. In order to maintain the quality of our events, the organizer may approve or deny attendees.

3. The organizer reserves the right to modify the event agenda or speaker(s). Any adjustments will be posted on the event page.