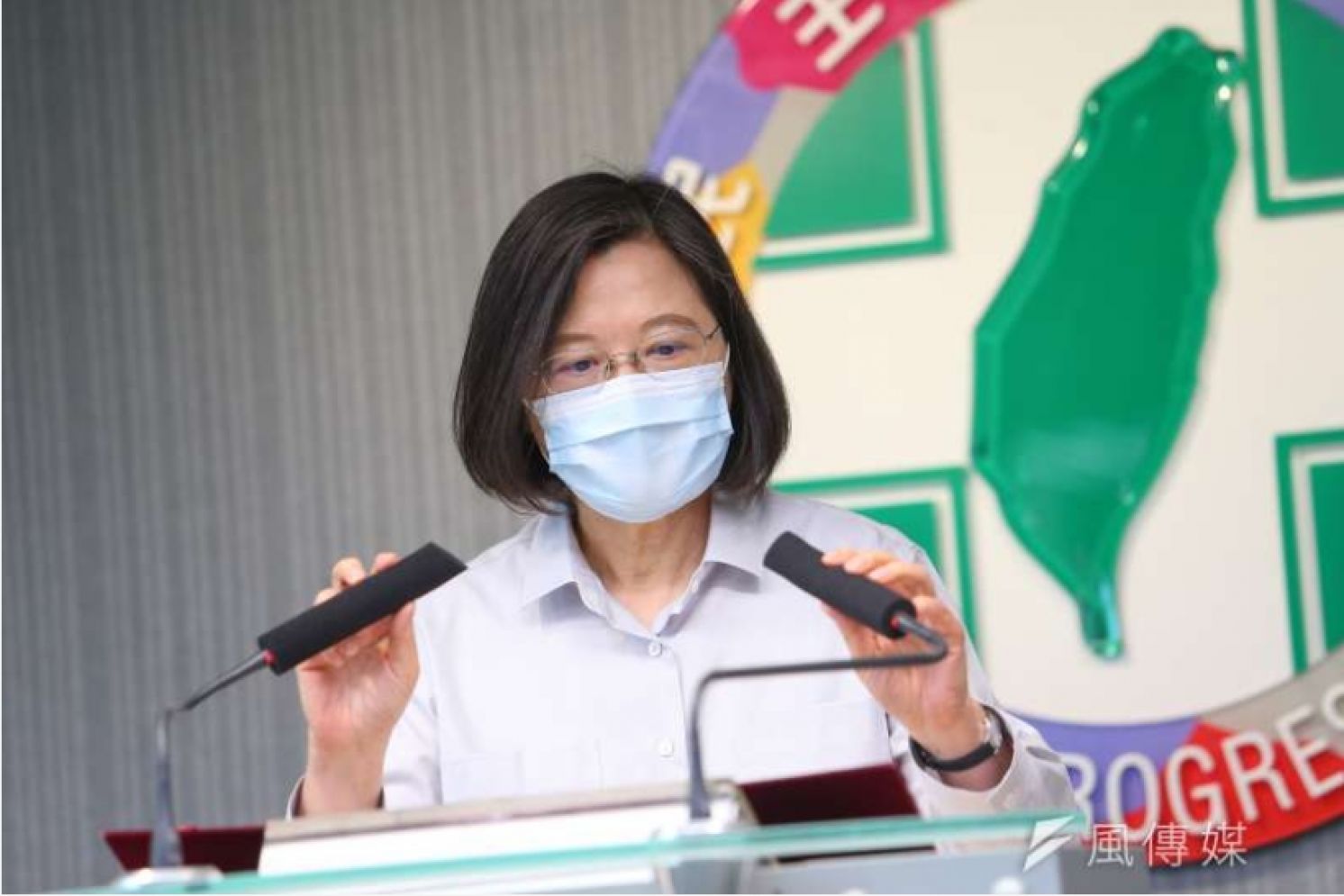 Piercing the False Veil of the Tsai Administration's Three Principles on Vaccine Procurement
By Shih Wei-chuan
China Times, July 15 , 2021
The procurement of German BioNTech vaccines through its agent Fosun Pharmaceutical  based in Shanghai by two major Taiwanese high-tech companies has finally been completed. Previously, the Central Epidemic Command Center (CECC) had politicized the Fosun Pharma's role as "an agent for BioNTech" in the Greater China region, including Taiwan as an excuse to block the procurement. Now, President Tsai Ing-wen is seeking credit for her achievements by emphasizing through Facebook that the procurement was in line with her three principles of "original manufacture," "original manufacture labeling," and "direct delivery to Taiwan," which had displayed her administration's strong insistence on protecting people's health.
The three principles actually had nothing to do with health. Being a confusing concept of propaganda slogans, they were used to excuse some missteps. The original manufacture labeling was a false issue. There are 14 laws in Taiwan that govern the labeling of imported goods, and vaccines are also regulated. For example, the Pasteur Cellular Japanese Encephalitis Active Attenuated Vaccine commonly used in hospitals across Taiwan is a product of the Mérieux Group, whose holding company is based in Lyon, France, while the vaccine administered to Taiwanese comes from a pharmaceutical in Thailand and is imported by Sanofi Taiwan, with a mainland Chinese label affixed by the Zuellig Pharma in Taoyuan, Taiwan. All in all, the government has not required so-called "original manufacturer labeling".
As for "original manufacture", it was even a vaguer excuse. The AstraZeneca Covid-19 vaccine that some Taiwanese are being shot did not come from the United Kingdom. The finished product was manufactured in Japan. Some undiluted solution used in the Japanese plant came from WuXi Biologics in mainland China, Henogen SA in Belgium, Catalent in the United States, Oxford Biomedica in the United Kingdom and SK Bioscience in South Korea, and others. They were either original equipment manufacturers (OEM) or original design manufacturers (ODM). Both of them were original manufacturers, weren't they? The BioNTech vaccine was the product of Pfizer in Germany and purchased by Hon Hai Precision Industry (Foxconn) and the Taiwan Semiconductor Manufacturing Company (TSMC). Pfizer has 43 manufacturing facilities around the world. If the BioNTech vaccine comes from one of them, is it considered the original manufacturer?
President Tsai's three principles meant that the encephalitis vaccine, which has been administered in Taiwan for a couple of years, did not meet the requirements; that the AstraZeneca vaccine, which is currently being administered to Taiwanese, did not satisfy the requirements; and that the BioNTech vaccine, which would be delivered to Taiwan, might not meet the requirements either. In fact, her three principles were false and bewildering. The logic of three principles' propaganda was that it was not the Tsai administration, but China that was interfering with the procurement of vaccines by the high-tech giants; Three principles signified that the BioNTech vaccine certainly had nothing to do with the mainland.
In the BioNTech vaccine case, the Tsai administration should focus on people's health rather than on who the agent is. The Tsai administration disagreed with Fosun's role as an agent for BioNTech "in Greater China region" and insisted that Foxconn and other companies must directly negotiate with the German side due to President Tsai's separatist mentality regarding China. As a result, the administration had been stuck for more than two months, struggling to bypass Fosun and went straight to the BioNTech headquarters. However, it ended up with purchasing from Fosun after all. 
The ruling Democratic Progressive Party's (DPP) assertion was contrary to commercial reality. Some multinational corporations have their Greater China regional headquarters established in mainland China, which does not mean that Taiwan is part of China. By the same token, others have set up their Greater China regional offices in Taipei. It does not mean that Beijing and Shanghai are under Taiwan's rule either.
The Fosun controversy was supposed to have successfully resolved with just a phone call during the administration of President Ma Ying-jeou from 2008 to 2016 when Beijing and Taipei had direct contact with each other. Now there is no formal contact across the Taiwan Strait. The DPP should further seek to crack the hard nut amid the strained relations between Taiwan and mainland China; however, the DPP made a fuss about nothing while putting a chain around its neck. The China factor has become a convenient excuse for the DPP to shirk its responsibilities for protecting people, instead of finding its ways to deal with.
It is disgusting that China would point its fingers at Taiwan's affairs. But the DPP administration is making things more and more confusing while making its own troubles. That would not conduce to the health of the people in Taiwan. President Tsai had lost her face and dignity before formulating the three Principles for covering up the government's embarrassments.
From: https://www.chinatimes.com/opinion/20210715004648-262110?chdtv