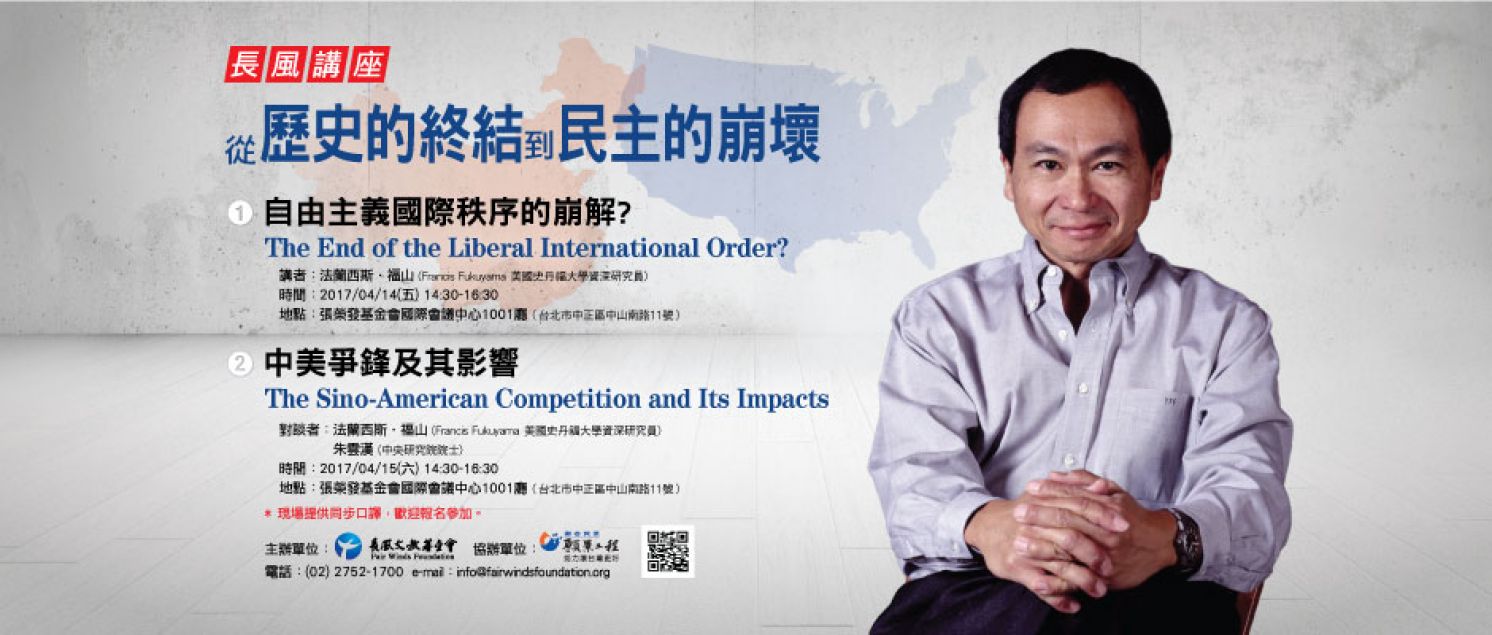 From the End of History to the Collapse of Democracy
Francis Fukuyama predicted in The End of History and the Last Man that representative democracy and the market economy would be the ultimate choice of humankind. However, global development in recent years seems to run counter to this thesis. Fukuyama has deeply reflected upon the evolution of history and now advocates that the ability of governance and a foundation of the rule of law are key to determining a country's political rise and fall.
When Donald Trump was elected president of the United States, Fukuyama indicated that America has begun to depart from the liberal international order and move towards populist nationalism. The rise of populism not only in the United States but also in many other countries, including Britain, Europe, and Asia, is a most worrying global trend.
Is Taiwan also facing the shock of populist politics? Will the increasingly tense U.S.-China relations and cross-strait relations see an irreversible change with populist nationalism? Fukuyama's keynote speech and his conversation with scholar Zhu Yun-han will bring us valuable inspiration and reflection.
Speaker Profile
Francis Fukuyama is Olivier Nomellini Senior Fellow at Stanford University's Freeman Spogli Institute for International Studies (FSI), Mosbacher Director of FSI's Center on Democracy, Development, and the Rule of Law (CDDRL), and Director of Stanford's Ford Dorsey Master's in International Policy. He is also professor (by courtesy) of Political Science.
Dr. Fukuyama has written widely on issues in development and international politics. His 1992 book, The End of History and the Last Man, has appeared in over twenty foreign editions. His most recent book, Identity: The Demand for Dignity and the Politics of Resentment, was published in 2018.
Organized by: Fair Winds Foundation
1. This event is free, but seats are limited. The organizer is entitled to shorten or postpone the registration period.

2. When registering, please provide an accurate e-mail address. In order to maintain the quality of our events, the organizer may approve or deny attendees.

3. The organizer reserves the right to modify the event agenda or speaker(s). Any adjustments will be posted on the event page.