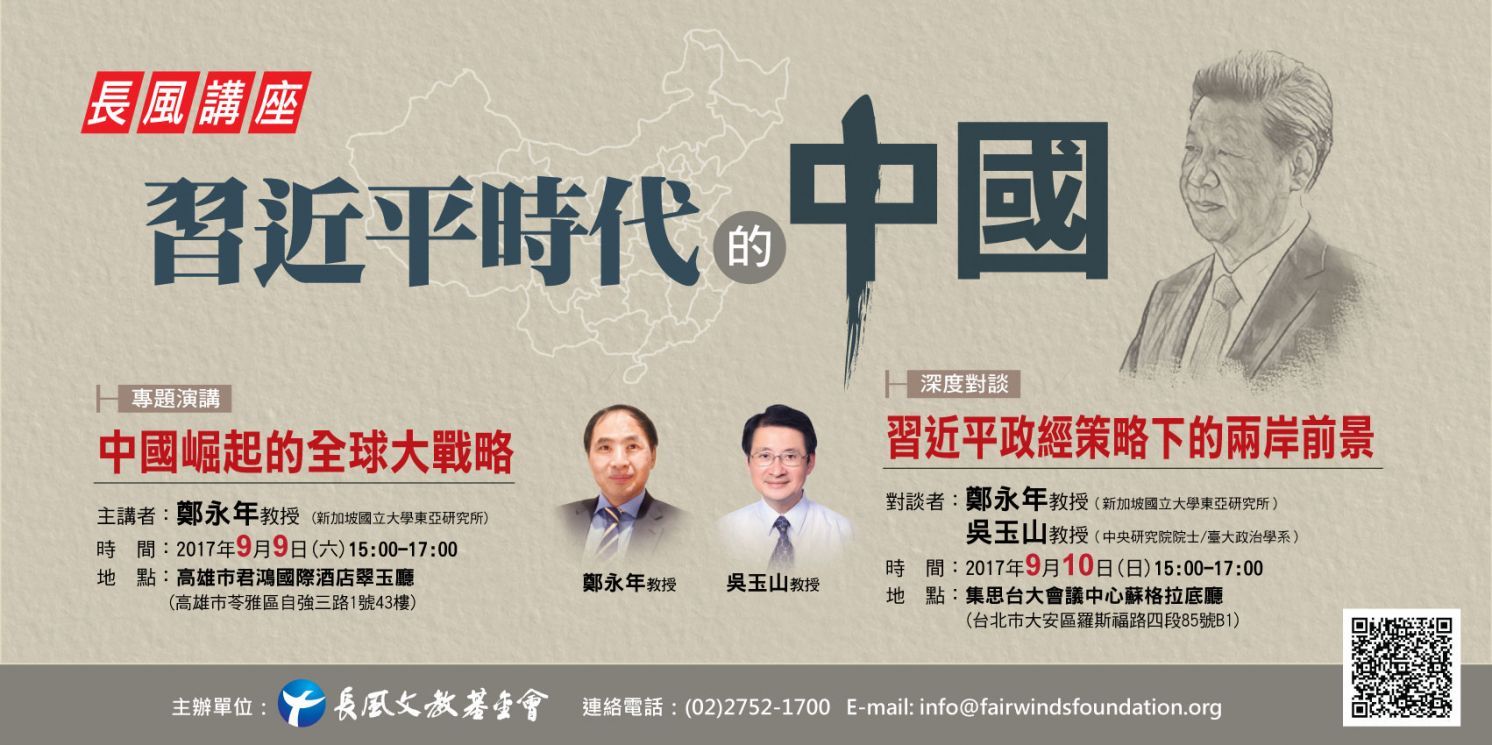 China under Xi Jinping
Keynote Speech: Global Strategies Amid China's Rise
Featured Speaker: Professor Zheng Yongnian (East Asian Institute, National University of Singapore)
Time: Saturday, September 9, 2017 3 PM—5 PM
Location: Cuiyu Hall, 85 Sky Tower Hotel
(43F, NO. 1, Ziqiang 3rd Rd., Lingya Dist., Kaohsiung City 802)
 
In-Depth Discussion: Prospects of Cross-Strait Relations under Xi's Political and Economic Agenda
Discussant: Professor Zheng Yongnian (East Asian Institute, National University of Singapore)
Professor Wu Yu-shan (Academician, Academia Sinica and Department of Political Science, National Taiwan University)
Time: Sunday, September 10, 2017 3 PM—5 PM
Location: Socrates Hall, GIS Convention Center, National Taiwan Center (B1, No. 85, Sec. 4, Roosevelt Rd., Da'an Dist., Taipei City 106)
Speaker Profile
Zheng Yongnian is research professor of the East Asian Institute, National University of Singapore. He is editor of Series on Contemporary China (World Scientific Publishing) and editor of China Policy Series (Routledge). He is also a co-editor of China: An International Journal. He has studied both China's transformation and its external relations. His papers have appeared in journals such as Comparative Political Studies, Political Science Quarterly, Third World Quarterly and China Quarterly. He is the author of 13 books, including Technological Empowerment, De Facto Federalism in China, Discovering Chinese Nationalism in China and Globalization and State Transformation in China, and coeditor of 11 books on China's politics and society including the latest volume China and the New International Order (2008).
Organized by: Fair Winds Foundation
1. This event is free, but seats are limited. The organizer is entitled to shorten or postpone the registration period.

2. When registering, please provide an accurate e-mail address. In order to maintain the quality of our events, the organizer may approve or deny attendees.

3. The organizer reserves the right to modify the event agenda or speaker(s). Any adjustments will be posted on the event page.