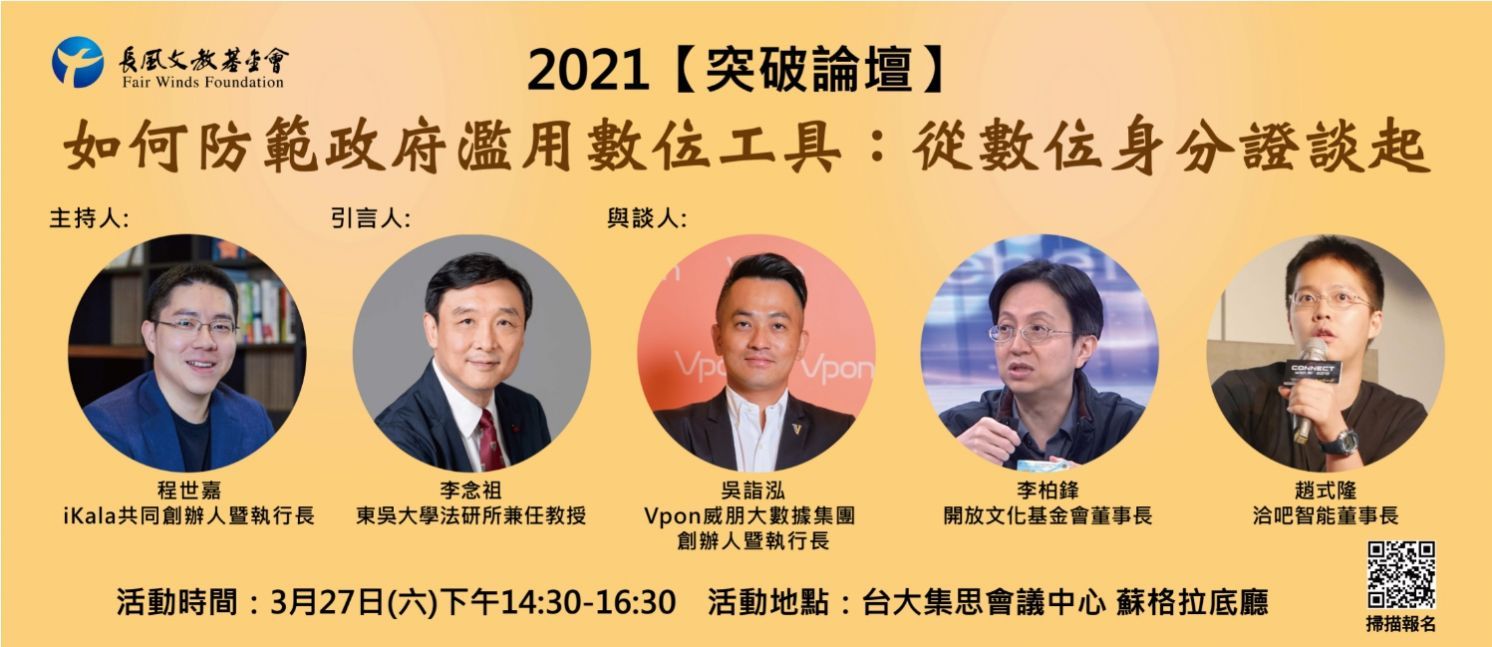 Preventing the Government from Abusing Digital Tools: A Case Study of Digital ID Cards
Breakthrough Forum 2021: Preventing the Government from Abusing Digital Tools: A Case Study of Digital ID Cards
A digital identification card can combine a variety of digital information, which seems to provide great convenience, but there are also hidden concerns of government surveillance and information leakage.
If the government abuses digital tools, your personal data, communication records, transaction records, health data, and even your whereabouts may be completely controlled by the government. Does this mean the arrival of a digital totalitarian era? At that time, who can supervise whether the government misuses information? Who can assist the people to protect their rights and seek relief?
There are pros and cons to a renewed digital ID card, but is it reasonable to compel renewal? Who will answer information security concerns? Please join us for a thoughtful discussion!
Time: Saturday, March 27, 2021 2:30 PM—4:30 PM
Venue: Socrates Hall, GIS NTU Convention Center
(B1, No. 85, Sec. 4, Roosevelt Rd., Da'an Dist., Taipei City 106)
Phone: (02) 2752-1700
Event Organizer: Fair Winds Foundation
1. This event is free, but seats are limited. The organizer is entitled to shorten or postpone the registration period.

2. When registering, please provide an accurate e-mail address. In order to maintain the quality of our events, the organizer may approve or deny attendees.

3. The organizer reserves the right to modify the event agenda or speaker(s). Any adjustments will be posted on the event page.